Unicorn macarons are here to stay! Perfect almond French macarons with pink and blue swirls, topped with as many sprinkles as all of your dreams will allow. Filled with cotton candy buttercream.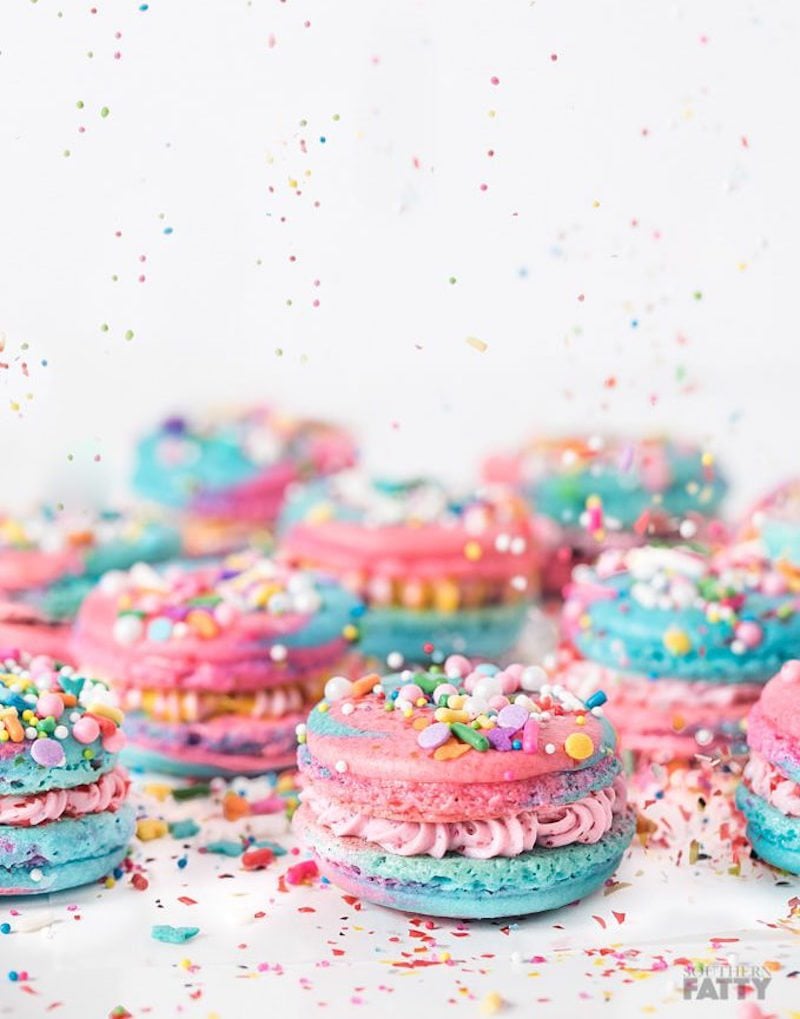 Some of you may be thinking that I started some crazy fad New Year's diet and am just confused and hallucinating a bit with this one. Others will know what all of the kids are up to these days and realize that this is my my take on a recent popular cheery unicorn dessert fad. Everyone wants a unicorn, right?
It all started when during the blast of winter, a little cafe in California delivered a magical hot chocolate recipe full of cheer and sprinkles and colors to its customers. There's something about blasting a dessert with the brightest sprinkled sugar confetti that just makes it taste and feel that much better. Winter blues? Sprinkles. Sick of that lousy Whole 30 thing you've been begging to break? Sprinkles. Tossing some rainbow lovin' on top of that dessert is the best way to bring smiles to everyone's faces.
If you haven't made macarons before, I would definitely suggest that you read up a bit about them before jumping in. NOW… don't freak out and lose your sprinkles over it. It can be daunting to read everyone say to do this and that and not this and certainly not that, etc. Just try it out. It might fail. So what? Do it again and just try to enjoy the learning process with it. Once you master that, the macarons will soon follow. PS – We have what I think is a great guide HERE for everything Macarons 101. We even have a nice FREE printable template that you can use to pipe them out.
Now… for some pictures! Because I'm pretty sure unicorns are creatures of few words.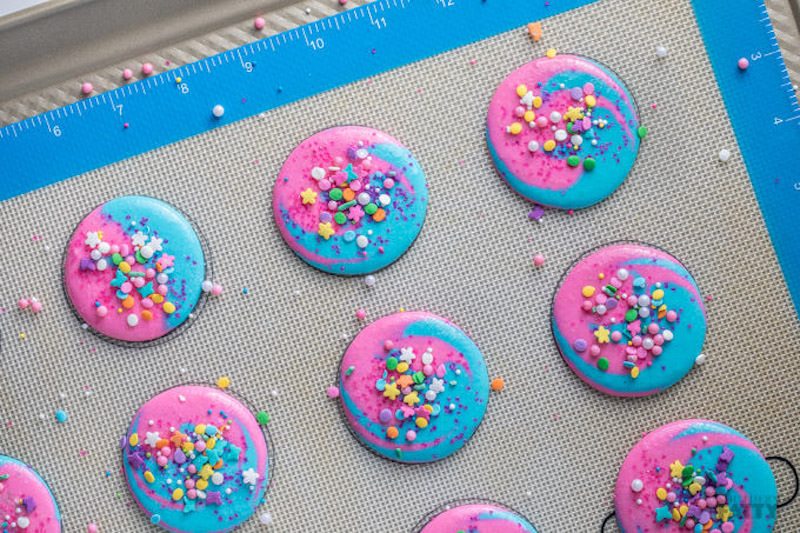 What would unicorn filling taste like? Totally normal question to ask yourself mid-day, right? Thought so too. Unicorn filling made me thing of unicorn poop. Unicorn poop is obviously not gross BECAUSE IT'S FROM A UNICORN. It would be made of pure glitter and cotton candy, I think. Case closed. Cotton candy and glitter buttercream it is. Turns out, that's pretty simple. Some nice buttercream base, cotton candy flavoring, and a shit ton of unicorn-worthy edible glitter or sanding sugar.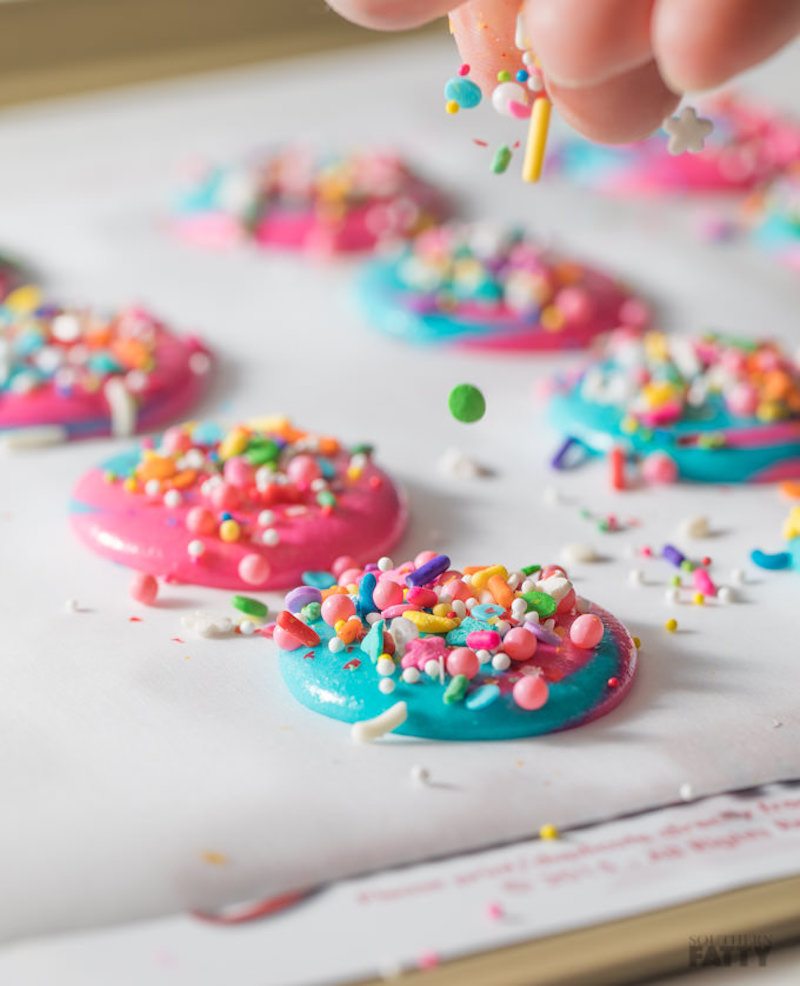 The fun part about these is that you can really put anything you want on them for sprinkles. All jimmies? Who the hell wants that?! It's 2016.. err 2017, I mean. Even though the 1990s still sounds like it was only 10 years ago to me, it's time to update your sprinkle stock. It's amazing how many different types you can find these days. Internet, y'all. It's crazy out there on Etsy and stuff.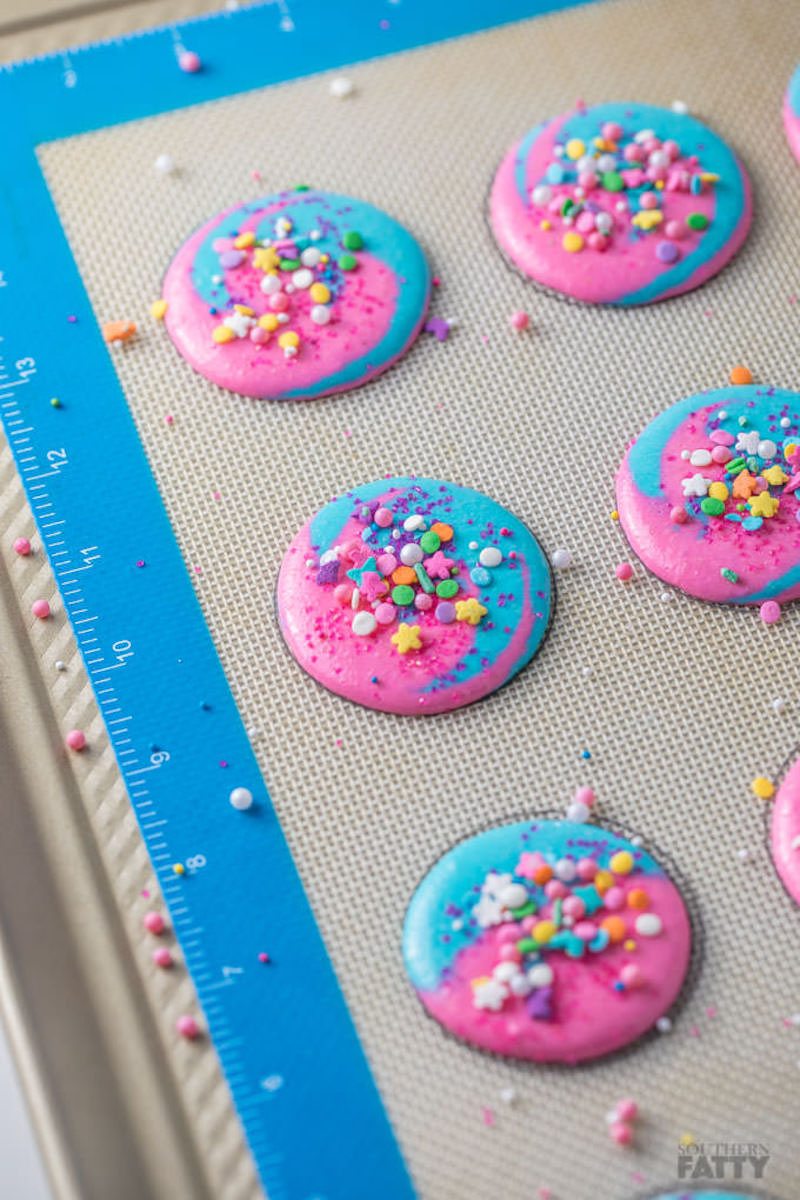 I mixed together a bunch of different random shapes and colors for my macs. Added some edible glitter. Considered using an airbrush to make a chocolate horn but got too lazy and decided that I wanted to eat them now instead. You know… the usual.
I mean.. come on. You can't help but smile a bit when you see this many colors in one bite. If you want something just as bright and fun to drink with these, the world's most beautiful Unicorn Hot Chocolate recipe is over at Love & Olive Oil today. Seriously. Go check that out. It's what sparked this whole thing, really. At dinner last week, Lindsay was telling me all about the whole world of unicorn desserts and I was sold. Shiny, flashy, colorful? Something to distract me? I'm in! I quite literally spent the entire weekend waist deep in sprinkles and buttercream. So… a normal weekend but with a really, really cute prize at the end. I'm positive I'll be finding sprinkles in my kitchen for the next month.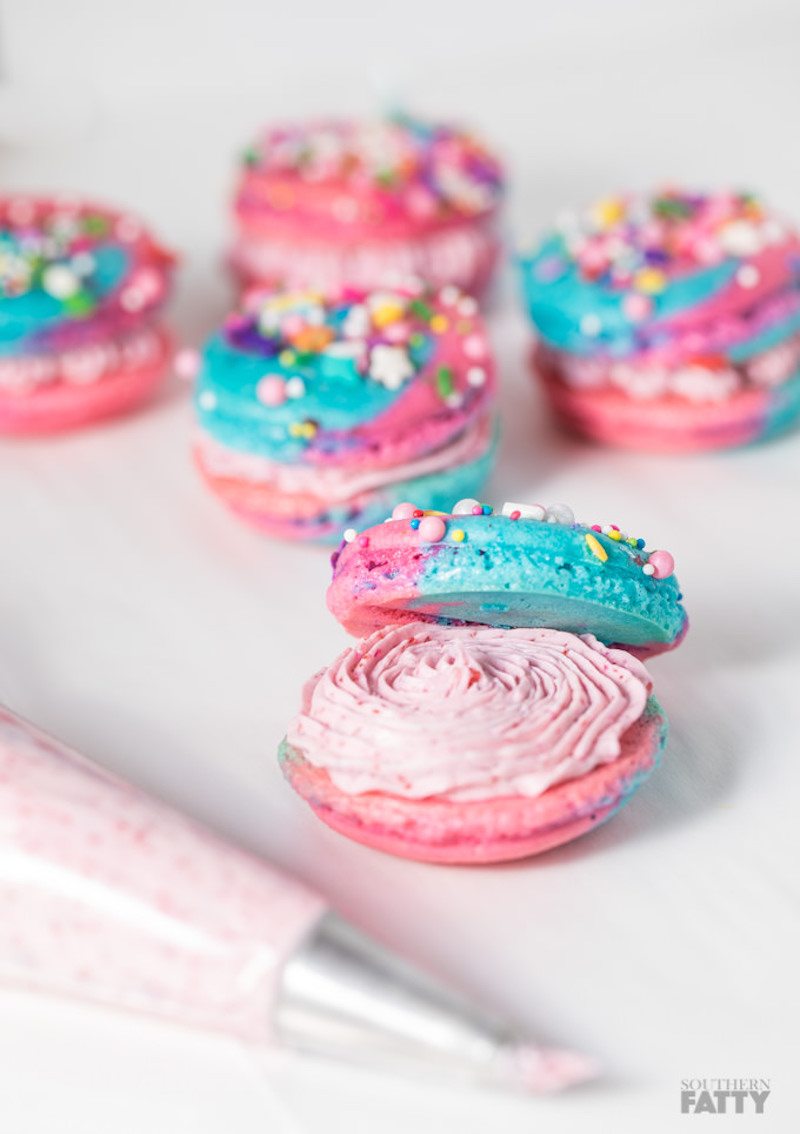 A bit of cheer during dreary winter. Enjoy, y'all!
Unicorn Macarons and Cotton Candy Buttercream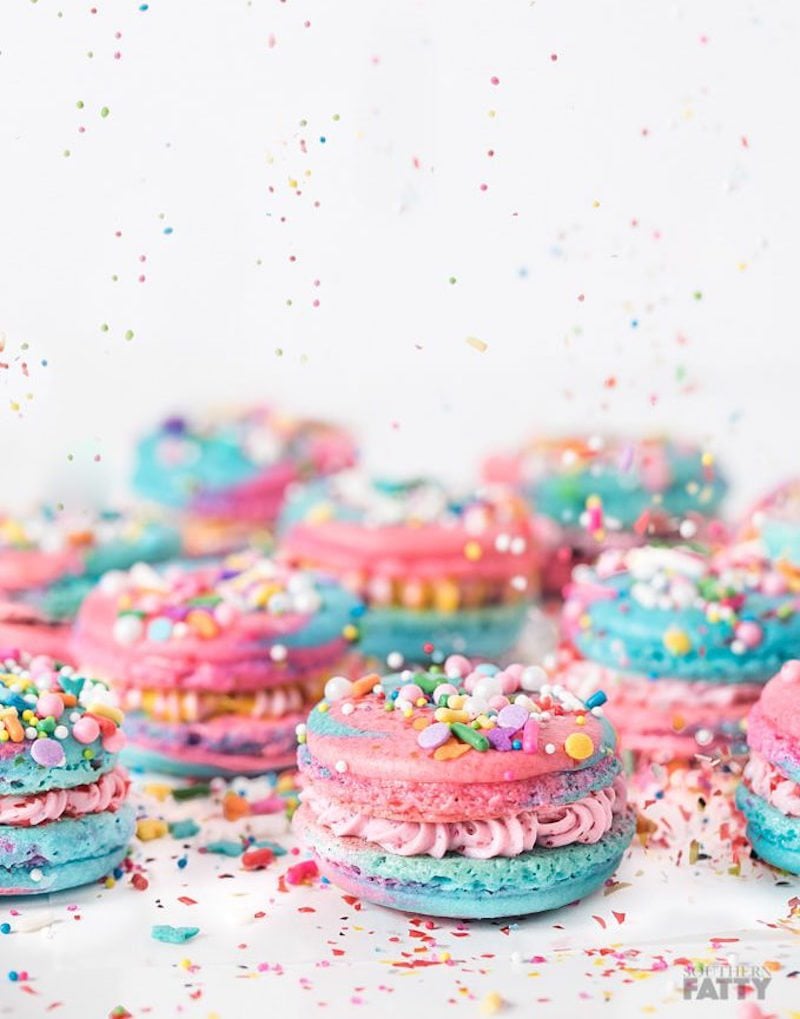 Author: Phillip Fryman
Recipe Type: Dessert
Ingredients
Macaron Shells
90 grams egg whites (3 large egg whites), room temperature
55 grams (~ ¼ cup) superfine sugar (granulated sugar in food processor until fine)
200 grams (~ 1 and ? cup) confectioner's sugar
110 grams (~ 1 cup) almond flour
¼ teaspoon cream of tartar
pinch salt
food coloring, I use THIS gel coloring
sprinkles, lots of sprinkles
piping bags
Cotton Candy Buttercream Filling
8 tablespoons butter, unsalted, softened
16-24 ounces confectioner's sugar, sifted well
few drops cotton candy flavoring, I used THIS one
pinch salt
edible glitter or sanding sugar
pink food coloring, optional
Instructions
Macaron Shells
Before you begin making macarons, please VISIT OUR MACARONS: 101 GUIDE for tips.
Place room temperature egg whites in mixer bowl.
With whisk attachment, whisk at medium speed until foamy, about a minute.
Add superfine granulated sugar and cream of tartar. Mix until VERY stiff peaks form. You should be able to reverse the whisk and have the peak stands very tall without falling.
Split into two even batches. Add food coloring here if desired. Add a bit more than you think you need, as it will fade slightly when baking.
In a different bowl, sift together almond flour and confectioner's sugar. Repeat and sift a total of 4-5 times, removing any large pieces left behind after each sift.
Add almond flour mix to stiffened egg whites.
Using proper folding technique (see blog post for explanation of this!), fold until you can ribbon an "8" that holds into the batter. This should take about 50 proper strokes. THIS is the most important step in proper macaronage.
Pipe macaron circles onto paper-lined baking sheets using the macaron template from our MACARONS: 101 Guide and instructions available HERE.
Let the shells rest at room temperature for 30 minutes to form hardened tops.
Bake at 290 F for about 16 minutes. Be sure your oven temperature is exact. Use a thermometer to verify.
Remove and let cool completely before removing from baking sheets.
Cotton Candy Glitter Buttercream Filling
Add softened butter to mixer. Whip until smooth.
Add remaining ingredients and mix until smooth. Add more confectioner's sugar as needed for tight enough texture.
Finishing
Pipe filling between two shells and enjoy!
Visit SouthernFATTY.com for more.
Source: honestcooking.com